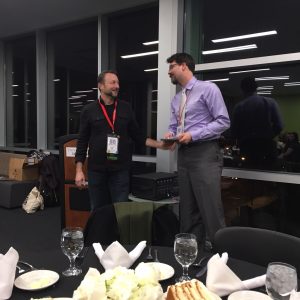 Kent Cyr was recognized at the Kennedy Center American College Theater Festival (KCACTF) Region III with a faculty service award for Innovative Teaching. The KCACTF Region III festival was held in Indianapolis, Indiana, January 9-14 at the University of Indianapolis. The goal of the festival is to encourage, recognize, and celebrate the finest and most diverse work produced in university and college theater programs.
Also, a number of our Visual and Performing Arts students were recognized. Congratulations!
Design Storm!
Student consults with other designers, dramaturg, and director to create a key scene in a play, prepare initial sketches, basic ground plan/rendering, and discusses how the design illustrates personal ideas and production intention/concept.
Hunter Storie (Scene Design) and Ethan Troyer (Dramaturgy) Most Wretched Deathbed Dreams of Edgar Allen Poe
Regional Design Projects
Regional Design Projects are intended to serve Region III student designers with the opportunity to showcase their work for non-realized design projects, and to receive a response to their work that will help them improve their design skills and grow as designers. Seven students presented in Sound Design and two in Costume Design.
Sarah Calvert (Winner), His Dark Materials, Sound Design
Noah Schumaker (Finalist), Insurrection, Sound Design
David Brown (Finalist), Galileo, Sound Design
Realized Design Projects
National-eligible for consideration in all design areas. Winners are invited to present at the Kennedy Center National Festival in April.  Three students participated and two were finalists.
Chris Wilson (Finalist), Picasso at the Lapin Agile, Music Composition
Alex Weber (Finalist), West Side Story, Lighting Design
Tech Olympics Individual Best Times
Performance is judged on time and/or accuracy in setup, skill, and performance.
Kity Williams and Brendan Espinosa, Sound
Ryan Nickolas and Hunter Stori, Lighting
Alex Weber and Jack Horrigan, Knots
Lexa Walker and Jason Scott, Costumes and Props
The Games of The Technological Olympiad Overall
Alex Weber and Jack Horrigan, Third Place
Ryan Nickolas and Hunter Storie, Second Place
Lexa Walker and Jason Scott, First Place