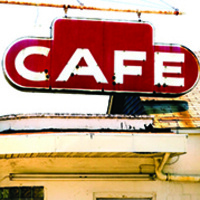 The Tech Theatre Company presents Mark Medoff's Obie Award-winning play "When You Comin Back, Red Ryder?"
The action involves the employees and customers of Foster's Diner in Hope, New Mexico, in the 1970s. Their daily grind is disrupted with the arrival of two couples, the upscale Richard and Clarisse, and the younger and wilder Teddy, an unbalanced Vietnam War vet and Cheryl, his hippie girlfriend. Complications arise when illegal drugs and guns enter the picture, and Teddy resorts to inflicting physical, mental and emotional torment. Emotionally charged and unpredictably brutal, the play plunges from the mundane to frightening.
Performances of "When You Comin Back, Red Ryder?" are Thursday, Friday and Saturday (Feb. 22-24), and March 1-3 in the McArdle Theatre in the Walker Arts and Humanities Center. Performance times are 7:30 p.m. each evening.
Tickets at $13 for adults, $5 for youth and no charge for Michigan Tech Students with the Experience Tech fee. Tickets can be purchased online, by phone at 7-2073, in person at the Central Ticketing Office in the SDC and at the McArdle Theatre prior to the show.