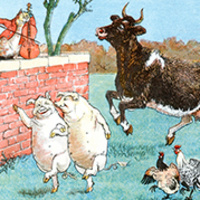 The Keweenaw Symphony Orchestra presents "Carnival of the Animals," 7:30 p.m. Saturday (Feb. 24) in the Rozsa Center for the Performing Arts.
One of the great zoological works in the orchestral canon, "Carnival of the Animals," by Camille Saint-Saëns, includes humorous depictions of elephants, donkeys, lions, hens, roosters, tortoises, kangaroos and the famous "swan" for solo cello.
This concert also features two Russian masterworks: Dimitri Shostakovich's "Festive Overture" and Modest Mussorgsky's "Pictures at an Exhibition."
Tickets are $19 for adults, $6 for youth and no charge for Michigan Tech students with the Experience Tech Fee. Tickets are available online, by phone at 7-2073, in person at the Central Ticketing Office in the Student Development Complex or at the Rozsa Center Box Office the evening of the performance. The Rozsa Box Office opens two hours prior to performances.
This concert is sponsored by a gift from John and Biruta Lowther.