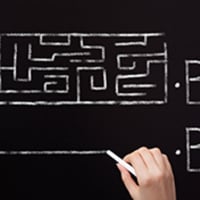 The Rozsa Center and the Department of Visual and Performing Arts present "From There to Here," featuring works of art created by Michigan Tech students participating in Project Learning Lab, an innovative arts classroom based inside of Rozsa gallery b.
Work on display was created by students in Lisa Gordillo's Traditional Sculpture, Advanced Sculpture and 3-D Design classes. Students from many campus disciplines are represented, including Materials Sciences, English and Theatre Arts.
Students in Traditional Sculpture study traditional ways of making art around the globe, including Guatemalan kites, Zimbabwe-Shona carving and metal casting, with help from Michigan Tech's department of Materials Science.
Students in Advanced Sculpture are encouraged to work with the gallery's architecture and to create large-scale installations in the gallery.
Students designed and built a tree house for a local, three-year old client in the in 3-D Design class.
The exhibition runs April 18-20. A reception will be held from 5 to 6:30 p.m. Friday, April 20, at the gallery. The reception is free and all are welcome.
Student artists represented: Shane Arnold, Rebecca Barkdoll, Jalen Beck, Jessica Boelcke, Alyssa Cinder, Scott Davison, Holly Eyrich, Charlie Heckel, Mads Howard, Aaron Kruzel, Alex Kuehn, Haylee Lakenen, Miles Lefevre, Dakota Lowrance, Michael Miller, Adam Mitchell, Evan Monko, Zack Nelson, Neal Nordstrom, Via Ouellette Ballas, Justin Pearl, Ted Smith, Matt Tascarella, Gabe Toczynski, Makenzi Wentela, Kitty Williams and Amanda Wils.