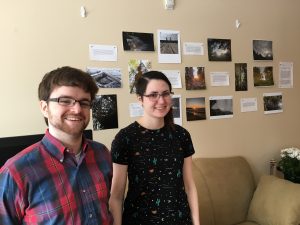 A team including Michigan Tech student co-curators Mads Howard and John Hughes, Omega House Marketing Coordinator Carol Pfefferkorn and Anne Beffel (VPA) are creating an exhibition of mindfulness-based photographs. The Omega House Hospice of Houghton will host a series of images by students of Beffel's Art and Nature studio course now through May 2.
A series of 32 photographs taken almost exclusively with cell phones, utilizing no zoom or editing, demonstrate the power of simply slowing down and paying attention to life as it unfolds from one moment to the next.
Students mindfully framed the experience, working independently and intuitively in the field to make the images. In tandem, they participated in rigorous critiques in the studio classroom, applying theories of visual art and culture to understand why some photographs resonated more so than others.
The result is a thoughtful and inspiring exhibition including both photographs and written statements by the artists. The exhibition is open to the public 10 a.m. to 4 p.m.
The Studio for Here and Now, where the exhibition was designed, is a studio space in Wadsworth Hall where students are free to drop in and join conversations and projects about putting art in spaces frequented by the public for the purpose of supporting a more empathetic and inclusive environment, and experience mindfulness-based art practices. The Studio for Here and Now makes art for the social good. 
Student artists represented: Liz Adams, Bernie Alkire, Maria Corona, Jake DeVries, Dusty Haxton, Mads Howard, Brett Howland, John Hughes, Gabriel Lamer, Alex Osterholzer, Jake Peterson, Alex Pohl, Julia Smit, Maddie Steger, Paul Vogt, Anrea Zubke.