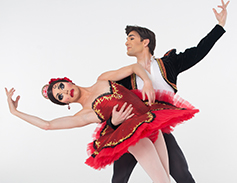 The Rozsa Center announces its 2018-19 season ticket sale. Season ticket packages are on sale early this year, in fact starting today, with the best discounts available on all the season has to offer.
There are four season ticket package options this year, offering savings of 18 to 37 percent off single-ticket prices. A full season ticket package—a pass to all the arts at Michigan Tech—gives you the biggest discount available off the single-ticket price on all Rozsa and VPA events. The popular "Pick 6" Season Ticket Package has returned and is an even better value this year.
We continue to offer the "Pick 3" option, and we have brought back the very popular "Family Pack" option that will let you bring the whole family to a big show at an affordable price.
We hope there is a package that works for you. To all of our long-time season-ticket holders, we're holding your seats, now through Aug. 1. For new season ticket buyers, we look forward to seeing you this season.
Featured this year are 12 Rozsa Presenting Series events, including five distinguished lecturers and more than 33 Visual and Performing Arts events including music, theater and visual arts events, and the ever-popular 41 North Film festival. Visit our Calendar of Events for a complete list of all our 2018-19 season events!
Not interested in a season ticket package? Single ticket sales also begin early this year, on Aug. 1. For more information or to purchase tickets, contact Michigan Tech Ticketing Services at the Central Ticket Office (SDC), call 7-2073 or go online.