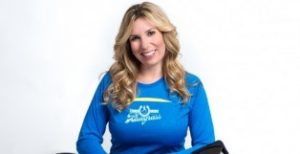 The Rozsa Center for the Performing Arts and the Center for Diversity and Inclusion present Boston Marathon bombing survivor Heather Abbott. She will present "Disabilities in Today's Workforce: How Trauma Shaped One HR Executive's Business Practices," at 7:30 p.m. tomorrow (Sept. 12) at the Rozsa Center.
At the time of the Boston Marathon bombing, Abbott enjoyed a high-powered career as a human resources executive with a Fortune 500 company. Little did she know that one day she would become the very kind of employee she was entrusted to protect.
On April 15, 2013, on what is referred to as Marathon Monday in Boston,  Abbott, of Newport, Rhode Island, set out on an annual tradition with six friends. They would attend the Red Sox game, followed by a walk over to the finish line to watch the runners. But that day changed her life forever.
Abbott was struck by shrapnel from the second of two bombs, severely injuring her left foot. After three surgeries in four days, Abbott was faced with an agonizing decision—should she try and save her left foot or amputate her leg below the knee. With the help of other amputees, and the support from thousands around the country, Abbott made the difficult decision, at the age of 38, to live her life as an amputee.
Abbott has remained a model of strength and resilience and is determined to help other victims of limb loss. She is a certified Peer Counselor for the American Amputee Coalition and is helping other amputees adjust to their "new normal," as others helped her. By starting the Heather Abbott Foundation, she has another chance to continue to pay it forward for all amputees.
This lecture is presented as part of the Social Justice Lecture Series and Van Evera Distinguished Lecture Series. Tickets to this lecture are free, however, due to limited seating tickets are required, and are available by phone, 7-2073, online at mtu.edu/rozsa, in person at the Central Ticketing Office in the Student Development Complex or at the Rozsa Box office the night of the show. Please note the Rozsa Box Office is only open two hours before performances.