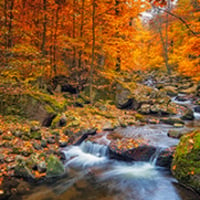 The Landscape Music Composers Network and Michigan Tech's Department of Visual and Performing arts will present "Landscape Music: Rivers & Trails," part of a nationwide series of concerts this fall commemorating the 50th Anniversaries of the National Trails System Act and the Wild and Scenic Rivers Act.
The concert will take place at 7:30 p.m. Thursday (Oct. 4) in the McArdle Theatre in the Walker Arts and Humanities Center.
The concert features Jon Ensminger (piano), Susan Byykkonen (flute, piccolo), Patrick Booth (clarinet), Andrew Shaud (cello), Lindy Wagner (violin) and Charles White (percussion).
The "Landscape Music: Rivers & Trails," initiative has mobilized the network's composers to compose 11 new works in this concert series. Five rivers—Sudbury, Klamath, Owyhee, American and Chattooga—and six trails—Juan Bautista de Anza Trail, New England Trail, North County Trail, Carson Trail, Oregon Trail and Florida Trail—will be highlighted.
For details, contact Libby Meyer (VPA), by phone, 7-3015, or email.