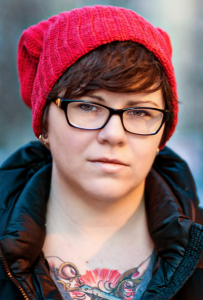 She found answers from her past in the experiences of other suicide attempt survivors. Suicide survivors were and are silent, anonymous, reduced to stereotypes and statistics.
Dese'Rae Stage wanted to show the world that suicide is not an affliction of the other—it affects people of all ages, races, faiths, ethnicities, gender presentations, sexual orientations, professions and so much more.
She founded the project, LiveThroughThis, which explores life on the other side of suicide through the stories of attempt survivors, in their own words, and the portraits taken following their stories being told.
The Rozsa Center for the Performing Arts, the Center for Diversity and Inclusion and Michigan Tech's Counseling Services present suicide attempt survivor Dese'Rae Stage at 7:30 p.m. Wednesday (Oct. 10) in the Rozsa Center.
Accompanied with dry humor and a dapper fashion sense (she refers to it as "sassy grandpa chic"), Sage comes to Michigan Tech to challenge preconceived notions about those with lived experience of suicidal thoughts and actions through the powers of photography and storytelling.
This is a free event and is open to all campus and community members (no tickets necessary). Come share space with our community and hear the stories of suicide attempt survivors and help be part of a community which works to fight and destigmatize mental health issues and create awareness about suicide.
Join us for a Q&A reception with the speaker and community mental health organizations following the keynote in the Rozsa Lobby.