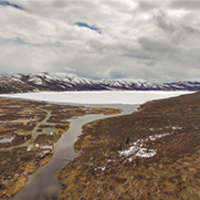 The Department of Visual and Performing Arts and the Rozsa Center are excited to announce the fall gallery exhibition, "Never Empty," featuring work by artists Dylan Miner (Ann Arbor) and Amanda Breitbach (Nacodoches, Texas).
The exhibit will run from Friday, Oct. 12 through Saturday, Nov. 10 in Michigan Tech's A-Space Gallery, within the Rozsa Center. Gallery hours are M-F 8 a.m. to 8 p.m. and 1 a.m. to 8 p.m. on Saturdays. A reception will be held from 5:30 to 7 p.m. Saturday, Oct. 27. Artist Amanda Breitbach will give an artist talk at 6 p.m. that evening.
The exhibit, curated by Lisa Gordillo, curator and director of the Rozsa Galleries, features photographs by Breitbach and mixed media paintings by Miner. Both artists' work investigates stories about local and national lands.
Our collaboration is dynamic and thought-provoking. The exhibit digs into the myths and the tensions present in our landscapes, and the peoples who have histories there. Both artists work to uncover, and to showcase, stories that may not be present at a first glance.—Lisa Gordillo
This exhibit is part of Gordillo's effort to showcase minority voices within the gallery, and to pay special attention to First Nation artists. According to Gordillo, "It's very important for all of us, but especially for Michigan Tech, as our campus sits on Ojibwe lands. I hope this exhibit inspires thoughtful conversations about landscape, land-use and the many heritages of our nation."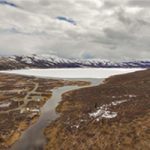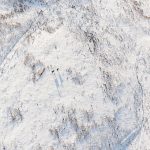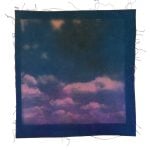 Amanda Breitbach's photographs and Dylan Miner's cyanotype-process paintings recompose the narratives we often speak when talking about "the land," "expansion," and "environments." Together, the two artists dig into the myths and tensions that exist within the landscape and peoples who have histories there.
Breitbach is a photographer whose work focuses on the complex relationships between people and land. She grew up on a family ranch in Montana; she offers portraits of a farm in decline, centered within the expansive high plains.  Dylan Miner is a Wiisaakodewinini (Métis) artist, activist, and scholar. His work reimagines the landscape as he layers pigments, minerals, and smoke on top of Upper Peninsula images.
The artists' visit is supported in part by the Michigan Tech Visiting Women and Minority Lecture Series, which is funded by a grant to the Office of Institutional Equity from the State of Michigan's King-Chavez-Parks Initiative. Both artists will spend time with the community during their visit.
For more details, contact Lisa Gordillo 7-3096.