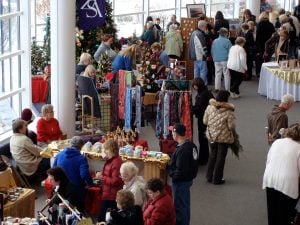 Vendor booth applications are now being accepted for the 21st Annual Home for the Holidays Gift Mart. This festive event will take place from 10 a.m. to 3 p.m. Saturday, Nov. 24 in the Rozsa Center for the Performing Arts.
The Home for the Holidays Gift Mart is a juried show, guaranteeing patrons an excellent and varied assortment of quality hand-crafted items. A total of 50 vendors will be accepted this year and local crafters and artists are encouraged to apply.
Those interested are asked to contact the Rozsa Center for a booth application via email or by calling 7-2858. Early applications will be reviewed Friday (Oct. 19), and vendors will be notified of their acceptance next week. Applications received after this Friday will be reviewed upon receipt, with the application deadline Nov. 16.
For complete vendor details, contact Mary Ann Struthers, 7-2858.