The Rozsa Center for the Performing Arts Concourse Gallery is featuring two artists this year: jd slack and Michael Letts.
jd slack: what makes a wall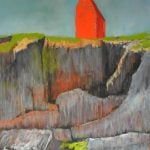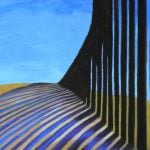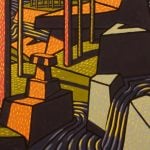 jd slack is a pastel artist and professor of communication and cultural studies. Her paintings integrate brilliant color, provocative imagery, and thoughtful engagement with physical and imaginative worlds. She lives and works in the Traprock Valley on the Keweenaw Peninsula of Michigan, but travels the world to gather images and inspiration.
The obvious wall, the build-a-wall-and-make-Mexico-pay-for-it wall, makes an appearance here, as it must. But that wall, like all walls, makes its appearance where there were once no walls. Real people build walls: With our imaginations: with hate, fear, and the very belief in separateness. With what we do or don't do … with teaching what to value or not. With real stuff: wires, rocks, pebbles, metal, and earth.— JD Slack
Michael Letts: Ancient Coast Series

Michael Letts lives and works in the Upper Peninsula of Michigan as a practicing artist and Professor of Art Education at Northern Michigan University. He holds an MFA in Painting from The Ohio State University. His paintings have been shown in numerous regional, national, and international exhibitions.
This series depicts spaces, and contemplates the energy that is trapped in the boundaries of physicality … Rocks hold ancient strength … water too is a force, and a source, it separates, dissolves, erodes, and unites at the same time. It contemplates the eternal and ephemeral …  solid and spirit, all together, in the world, existing as a whole. — Michael Letts
For more information on all our gallery events, visit our events calendar.