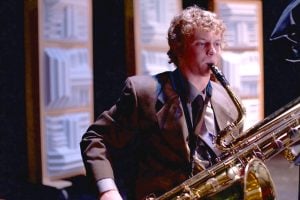 This weekend, you're invited to Backstage Jazz or "Club Rozsa" featuring the Jazz Lab Band and the Research and Development (R&D) Big Band. The stage of the Rozsa Center for the Performing Arts will be transformed into a historic jazz club with a vintage atmosphere, complete with café tables and a cash bar. The concerts are a jazz buffet with something for everyone—swing, funk, blues, Latin, fusion and originals.
The pop-up jazz club on the Rozsa stage with an intimate atmosphere is the perfect setting for the R&D Big Band and the Jazz Lab Band. Under the baton of Tech's Director of Bands Mike Christianson, they will loosen the reins on creativity and capture the flow of jazz.
Tickets for Backstage Jazz at the Rozsa are on sale now, $15 for adults, $5 for youth and no charge for Michigan Tech students with the Experience Tech fee. Tickets are available by phone at 7-2073, online, in person at the Central Ticketing Office in the Student Development Complex or at the Rozsa Box Office the evening of the performance.
Note the Rozsa Box Office only opens two hours prior to performances.