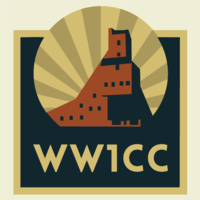 "World War I and the Copper Country" presents "The Big Parade" (1925) at 6:30 p.m. Thursday (Oct. 25) at the Carnegie Museum of the Keweenaw. Musician and KC Bonkers co-owner Clay Hilman will accompany the silent film on piano. Admission is free and open to the public. Refreshments will be served.
Metro-Golden-Mayer's "The Big Parade" was directed by King Vidor and based on the autobiographical novel "Plumes," written by war veteran Laurence Stallings. "The Big Parade" enjoyed huge box-office success as the highest-grossing silent film at the time. The film held exceptionally long bookings at picture palaces with full musical orchestration such as the spectacular Grauman's Egyptian theater in Hollywood and New York's Astor on Broadway, where it took in $1.5 million alone during a ninety-six-week run. Reviews praised "The Big Parade" as the greatest of war dramas, and Vidor became known as one of Hollywood's best directors.
Film synopsis:
James Apperson (John Gilbert), the idle son of a rich businessman, reluctantly joins the army when the U.S. enters World War I. He is sent to France, where he becomes friends with two working-class soldiers. While awaiting their orders to the front, James meets a young Frenchwoman, Melisande (Renée Adorée) and falls in love. Life is good for all of them until the soldiers move to the front where they experience the horrors of war, and James is forever a changed man.
Clay Hilman is a local pianist known for his improvisational style. He has played for 35 years, and started performing regularly for public engagements at the age of 12. His accompaniment will mimic the improvisational nature of live musical accompaniment in small picture houses in the 1910s.
This screening is part of "World War I in the Copper Country," an extensive program of events and exhibits commemorating the centennial of the WWI Armistice, and is sponsored in part by the Michigan Humanities Council.