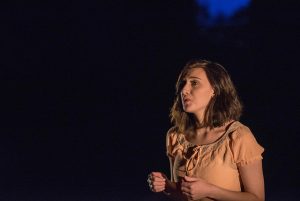 It's not typical for a person to study Theatre and Electronic Media Performance at a university more known for engineering. As I thought about my education at Michigan Tech and this unique program, that not many people pursue in the Upper Peninsula, I realized how extraordinary my college adventure would be. I am a fourth-year Theatre and Electronic Media Performance major, minoring in Technical Theatre, and my name is Callisto Cortez.
Over the years I've fallen in love with my department and the people that have become some of my closest friends. The tight-knit community that is the Visual and Performing Arts department works as a family and all the students can get one-on-one discussions and attention from each of our professors. Within my first year and a half at Michigan Tech, I was able to complete my Acting Practicums. Each practicum was worth 1 credit, which means I had already acted in 3 productions with the Tech Theatre. It's been an incredible learning experience, for the fact that I was able to immerse myself in the program right away. By the first semester of my second year, I was cast in my first leading role for the Tech Theatre, Silent Sky.
I have realized how extremely passionate I am about theatre and how fortunate I am to make my dreams into a reality by making my hard work pay off.
The major of Theatre and Electronic Media Performance at Michigan Tech caters to each student individually as artists. At first, my mindset was focused primarily on performance and enhancing my acting abilities. Then, I discovered my love for the technical aspects of theatre as well, which lead me to taking technical theatre courses. My second year, I helped to paint an entire set for The Irresistible Rise of Arturo Ui, and also stage manage the production of Sexual Perversity in Chicago During these two semesters, I was the lead in Silent Sky for the Fall semester and a dancer in West Side Story spring semester.
Now, I want to be able to act in a show, stage manage another, assist in any type of design, and just get to know the people who make an entire production happen.