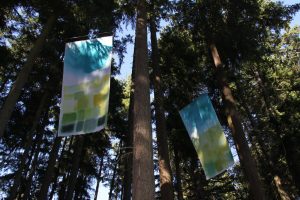 Professor and public artist Anne Beffel (VPA) will hold an open studio event from 6 to 8 p.m. today (Nov. 28) in the Studio for Here and Now in the basement of Wadsworth Hall (G04W), across from WMTU.
At a 6:45 p.m. presentation, Beffel will discuss a public art and meditation walk in an urban forest she and the City Meditation Crew installed in Shoreline, Washington.
Beffel says, "Meditation Circuit is a series of meditation stations along a pathway marked by public art work. Each station offers a mindfulness-oriented activity intended to support well-being. Explore: listening; walking; even using cell phones as tools for meditating on colors in an urban forest. Meditation Circuits demonstrate the power of meditation and the value of public art."
Meditation Circuit is inspired in part by the City Meditation Crew project, "Many Colors of Green," in fall 2017 at Hamlin Park in which community members walked meditatively and contemplated their park using their cell phones as tools for attentiveness.
More information is available online.