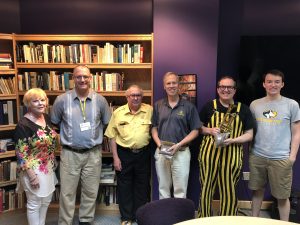 Let's get this show on the road!
Doug Lindgren, a former member of the Husky Pep Band, and his wife Mary recently supported the Husky Pep Band Traveling Roadshow Fund with a gift of $5,000. Their gift helps the Husky Pep Band with instrument/equipment repairs and purchases, transportation and housing arrangements, and music distribution on their traveling roadshows.
David Hemmer, Dean of the College of Sciences and Arts, Jared Anderson, Chair of Visual and Performing Arts, Ben Larson, Director of Advancement of the College of Sciences and Arts, Michael Christianson, Associate Professor, and Jake Aguado, Pep Band President In Training, attended the ceremony where the Lindgrens announced their support.
Doug and Mary have been generous Michigan Tech supporters for more than 45 years. While the Pep Band is an iconic institution at Michigan Tech, its annual budget is shockingly small. With their gift establishing the Pep Band Travel Fund, they help ensure the Pride of Pasty Land can travel far and wide, supporting our great Husky athletes and striking fear in the hearts of their opponents.—David Hemmer
Doug, alumni of 1969, earned his bachelor's degree in chemical engineering. Both him and Mary have a home in Flagstaff, Arizona.