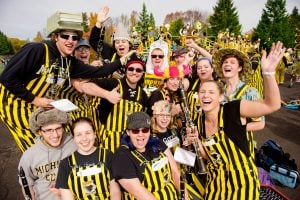 The Huskies Pep Band Annual concert takes place at 7:30 p.m. tomorrow (Oct.. 30) in the Rozsa Center for the Performing Arts. This year's concert is "Respite for the Spitball" or AKA "Stop the Insanity? Never!"
The Huskies Pep Band presents one concert every year in the lovely Rozsa Center, complete with stripes, horns, cowbell and their usual hijinks. The Pep Band is conducted by Michigan Tech's director of bands Mike Christianson. The title surrounds the theme of "doing things the rest of the world may prefer the Pep Band cease doing," similarly to how the spitball was outlawed in baseball, but some pitchers, "grandfathered in," were allowed to continue the questionable practice.
There will be Huskies Pep Band SWAG available for purchase at this event. Yes, that's right, the very SWAG that is no longer allowed to be sold at games will be at a lower price than you could get from the Bookstore.
Tickets are on sale now, $13 for adults, $5 for youth, and no charge for Michigan Tech students with the Experience Tech fee. Tickets are available by phone at 7-2073, online, in person at the Central Ticketing Office in the Student Development Complex, or at the Rozsa Box Office the evening of the performance. Note, the Rozsa box office is only open one hour prior to the performance.