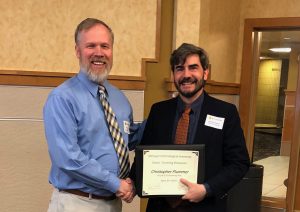 This week, the Dean's Teaching Showcase recognizes Christopher Plummer (VPA). Plummer joined VPA in 2002, developed the sound design program and was inducted into the Academy of Teaching Excellence in 2011.
College of Sciences and Arts Dean Bruce Seely chose to recognize Christopher Plummer for his commitment to the professional success of students. Seely says Plummer's approach matches that of other successful faculty recognized this year—gain the trust of students.
Christopher knows that change comes too quickly for students to learn everything. Therefore, for students to succeed, they must possess enough knowledge to ask the right questions and the ability to listen and then research the best answers. 'How I teach is as important as what I teach.'
Plummer says, "I must model good listening and communication skills. Students need to know I am interested in their success and that I teach to help them."
He tells students about his course design choices and teaching strategies, and thereby gains rapport with the students and enhances their accomplishments.
Plummer also notes that at one time, he tended to step away from these discussions once classes were in place, figuring things were working. "I was wrong, and both the achievement of the students and my student evaluations reflected the importance of the open dialog."
This "dialog" creates not only rapport with the students, but also a buy-in that improves learning and the quality of student work. "This also encourages them to view the process as something they are part of rather than something done to them," Plummer says.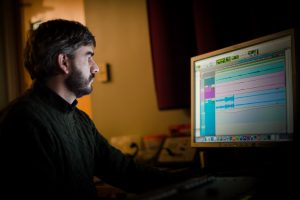 Plummer wants students to be invested in their studies and internally motivated. "Students must believe their work really matters, that they have an audience beyond a professor grading an assignment."
Many arts projects have broader community audiences—VPA faculty often bring in outside professionals to campus as reviewers. Since many class projects lack those audiences, VPA expects students to develop a portfolio of projects that add value to the students.
For example, in the loudspeaker design class, students lay out technical specifications, design and build a set of loudspeakers they keep. Plummer says, "One measure of student investment in assignments is if they share them on social media. Are they proud of their work? Do they want to share it? When students have an emotional engagement, they search for information and remember it long after the test. Loudspeakers are all over social media from early stages to completion."
VPA also believes students' investment is facilitated by feeling part of a community of learners connected by a culture of collaboration and support for each other's success. For Plummer, collaboration extends beyond the department to include introducing students to relevant regional or national professional conferences, as well as bringing professionals into the classroom and lab, in person or through video conferences.
As an example, Plummer "started a project where students create audio stories with professional actors, significantly raising the stakes in students' projects by introducing professional standards of communicating."
Collaboration and support continue after graduation as alumni frequently help each other find jobs or solve problems, elevating the success of all VPA students and the profession. The fruits of these efforts are visible when VPA students transition into professional life.
Our students and graduates work on the largest, most complex entertainment events, tours and installations in the world including Cirque du Soleil, Lady Gaga, Disney, Radio City Music Hall, Taylor Swift, Metallica and various projects at The Smithsonian.
Stephan Villet, co-founder of Smart Monkeys, Inc., (a consulting firm in show design and production), commented, "Michigan Tech students can talk to clients and designers about meeting their goals as well as about making Smart Monkeys a place I want to work, with people I enjoy working with." Clearly, Plummer's efforts to encourage student investment in an education occurring within collaborative environments seems to be working.
Plummer will be recognized at an end-of-term luncheon with other showcase members. He is now eligible for one of three new teaching awards to be given by the William G. Jackson Center for Teaching and Learning this summer, recognizing introductory or large-class teaching, innovative or outside-the-classroom teaching methods, or work in curriculum and assessment.
by Michael Meyer, Director, William G. Jackson Center for Teaching and Learning