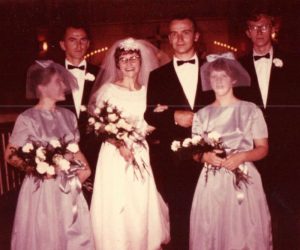 Please join us for Music O Rama, an annual musical variety concert, that will be held this year in honor of a couple that has spent many years participating in the Arts at Michigan Tech.
This concert is sponsored by John and Biruta Lowther, in celebration of their 50th wedding anniversary.
The Lowthers and their family members took part in many of Michigan Tech's various music ensembles. The celebration will feature performances by conScience, Superior Wind Symphony, and Jazz Lab Band.
According to John Lowther, "We wanted to celebrate our 50th anniversary and express our appreciation to the music department for the years of music our family has enjoyed. I played in the KSO for a number of years. Our son played in the Pep Band and sang in the Concert Choir. Biruta and I enjoyed singing together in the Concert Choir."
The Department of Visual and Performing Arts presents "Music O Rama" on Saturday, October 1, at 7:30 PM at the Rozsa Center for the Performing Arts.
According to Jared Anderson, Chair of the Visual and Performing Arts Department and Director of Choral Activities, "Music-O- Rama is a fast-paced music variety show that features many of the instrumental and vocal ensembles at Michigan Tech. Along with performances by the Jazz Lab Band, Superior Wind Symphony, and conScience: Michigan Tech Chamber Singers, this event will feature student led combos and small ensembles as well as compositions from sound students in the Visual and Performing Arts Department. This year the concert will feature music by Louis Armstrong, Gustav Holst, and John Philip Sousa along with selections from the musical theatre stage. This annual concert is quickly becoming an audience favorite. It's a great way to kick off the music season at the Rozsa Center."
Tickets are on sale now, $13 for adults, $5 for youth, and no charge for Michigan Tech students with the Experience Tech fee. Tickets are available by phone at (906) 487-2073, online at Rozsa.mtu.edu, in person at the Central Ticketing Office in the Student Development Complex, or at the Calumet Theatre Box Office.
By Bethany Jones