You and your students can control the destination and frequency of the notifications Canvas sends out to you.  Canvas pushes out notifications for a wide variety of activities and events that occur in a Canvas course.  Your notifications will come to your @mtu.edu email address right away by default, but you can edit how often these notifications come to you, and choose to get them somewhere else, like a text to your mobile phone, a tweet on Twitter, a message in Facebook or LinkedIn, etc.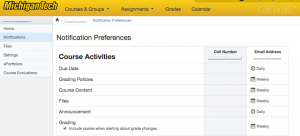 With the explosion of social media and mobile electronic devices, we live in an increasingly connected world. Canvas understands that, and gives you a wide variety of communication options to keep you connected to your courses and your students.  Notification Preferences allow you to select how and when you want to be notified when various events occur within your course. This same functionality is extended to students, so they'll be notified whenever there is a change in a due date, an updated assignment, or a message sent from within Canvas. You can access written documentation and information and watch the eLearning screencasts on eLearning's Notifications and Communication Preferences page.
The CTL Tip of the Week is brought to you by the William G. Jackson Center for Teaching and Learning (CTL). For more general information or help with Canvas at Michigan Tech, be sure to visit Canvas One Stop.