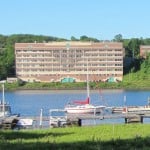 Graduate students Tony Pinar (ECE) and Bas Wijnen (MSE) collaborated with Jerry Anzalone (MSE), Tim Havens(ECE), Paul Sanders (MSE) and Joshua. Pearce (MSE) on a paper titled: Low-cost Open-Source Voltage and Current Monitor for Gas Metal Arc Weld 3-D Printing published in the Journal of Sensors.
Joshua Pearce (MSE/ECE) is quoted on the performance of solar in the Richmond Times Dispatch and Tulsa World.
The Pearce group solar-powered 3-D printers made the Tech.Mic top 6 list for Here Are the Big Ways 3-D Printing Is Creating the Future of Renewable Energy. 3D Printing Industry reports that copies of Pearce's book The Open Source Lab are prizes inthe Second Great Big Gigabot Giveaway.
Professor Yun Hang Hu and his doctoral student Bing Han have had extensive media coverage on their research focused on hydrogen production using light and water. Their method is currently the most efficient artificial photosynthesis process developed. Read more on e Science News, Kurzweil AI, Red Orbit, World Industry Reporter, MyInforms.com, phys.org, Laboratory Equipment, Pune Mirror, Mumbai Mirror and Fuel Cell Works.
Yun Hang Hu and his doctoral student Bing Han have developed an efficient method for hydrogen production using light and water. The research was covered by Industrial Safety and Security Source, Lab Manager, Space Daily, News R, Michigan Ag Connection and One News Page. Additionally, the Kurzweil AI story was reblogged on the Alex Torex Blog, CJC in 484 and several other blogs.