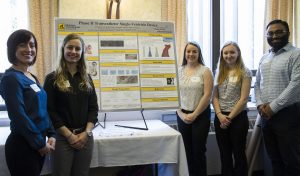 GRAND RAPIDS, Mich. – Babies with hypoplastic left heart syndrome may soon be able to forego risky surgery due to a device designed by doctors, students, and technicians from West Michigan.
The condition is complex: a portion of the baby's heart is pumping with only one chamber instead of two.
Dr. Joseph Vettukattil, chief of pediatric cardiology at Spectrum Health, is working with Spectrum Health Innovations and students and staff from Michigan Technological University in Houghton, Mich.
Dr. Brent Mulder, the Senior Director of Spectrum Health Innovations, says the final product could take up to 10 years to complete, but the wait will be worth it.
Read more and watch the video at FOX 17 West Michigan, by Erica Francis.
The undergraduate student team involved in the project include Emma Davis, Kat Farkas, Amanda Gogola, and Ami Kling, Biomedical Engineering. Their advisors were Jeremy Goldman and Smitha Rao, Biomedical Engineering. For Design Expo 2017 at Michigan Tech, they prepared a project "Customizing Transcatheter Nitinol Stents for Treatment of Hypoplastic Left Heart Syndrome in Infants" with abstract:
Hypoplastic left heart syndrome (HLHS) is a congenital heart defect that is mainly characterized by the underdevelopment of the left ventricle. Currently, multiple open heart surgeries are performed to correct this problem. Our team's goal was to help eliminate the need for the first surgery by designing and testing catheter deployment of a modified nitinol stent with improved patient matching. The idea of deforming the stent with a microsphere to better fit anatomically relevant infant heart geometries was explored, as well as the feasibility of the use of this deformed shape.
The project was sponsored by Spectrum Health Innovations—Helen DeVos Children's Hospital. It won several awards at the Design Expo:
Pavlis Honors College Innovation Center for Entrepreneurship Innovation Award: First Place
Ann Arbor SPARK Design Expo Image Contest: Second Place
Black & Veatch Building a World of Difference® Student Design Awards: Senior Design Awards (based on poster): Third Place