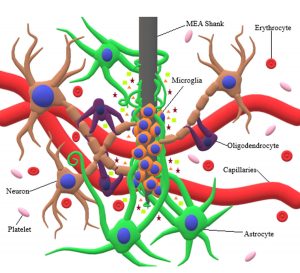 Given mankind's limited ability to treat damage to the human nervous system, neural interface systems (NISs) have emerged as an attractive alternative to conventional therapies. For a NIS to work, a microelectrode array (MEA) must be surgically implanted into the brain to allow an external computer to read and interpret neuronal signals for various applications. Dr. Zhao's Lab has recently published a review paper titled "A Critical Review of Microelectrode Arrays and Strategies for Improving Neural Interfaces" in Advanced Healthcare Materials.
https://doi.org/10.1002/adhm.201900558
This review article, authored by Morgan Ferguson (MS student), Dhavan Sharma (PhD candidate), David Ross (former MS student), and Dr. Feng Zhao, provides critical insight into the recent advances in strategies for improving NIS microelectrode array biocompatibility and neural interfacing capabilities, including alterations in microelectrode array surface properties (both surface chemistry and topography), surface geometry, and stiffness. Individually, each strategy provides varying degrees of success in altering microelectrode array biocompatibility, electrical conductivity, signal maintenance, and/or overall longevity along with the severity of foreign body response. By using a multiprong design for MEAs (one combining modifications to the surface, geometry, and hardness into one MEA) instead of using a lone modification, it could allow NISs to operate for a much longer period.