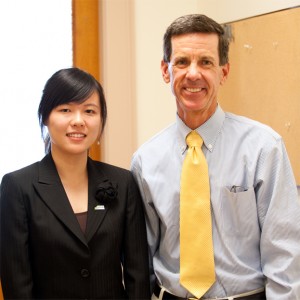 In partnership with the LSGI Technology Venture Fund, the School of Business and Economics is pleased to announce that former APMP member and current MBA student, Wei He, is the 2012 LSGI Mentoring Scholarship winner. The scholarship is awarded to students who display excellent academic achievement, expresses an interest in finance or applied mathematics, and demonstrates high moral and ethical characteristics.
Ms. He participated in the Applied Portfolio Management Program (APMP) during 2010-2011 and now will provide the 2011-2012 team as well as finance classes with mentoring and support. The current APMP students actively manage, under guidance, $1.3 million of the university's endowment fund.
During her time at Michigan Tech, she was the co-founder and secretary of the Michigan Tech Finance Club. Last year, as part of the APMP team she attended the 11th Redefining Investment Strategy Education (RISE) forum at Dayton University, Ohio, and her team earned 4th in the balanced investment category. Wei graduated in the major of Finance with Summa Cum Laude and right now she is pursuing her MBA degree at Michigan Tech. She is an active member of the Beta Gamma Sigma Honor Society and the MBA Association. Wei also achieved placement on the dean's list every semester.
In her free time Wei enjoys various sports, and traveling both domestically and abroad.
About LSGI
LSGI Advisors Inc. is a Texas corporation that acts as general partner for the LSGI Technology Venture Fund L.P., a private mutual fund for SEC accredited investors. LSGI Manager, Joe Dancy, serves as an advisor to the Michigan Tech Applied Portfolio Management Program, overseeing finance students responsible for managing $1 million of the University's endowment.Dancy also instructs oil & gas and environmental law programs at Southern Methodist University School of Law in Dallas, Texas.
To learn more about the LSGI Fund, please visit their website.