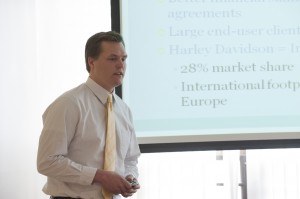 At its regular meeting, Michigan Technological University's Board of Control approved a new Bachelor of Science in Engineering Management degree, to be offered by the University's School of Business and Economics. This degree is designed to satisfy the growing needs in industry and our economy for individuals with strong skills in both business and engineering.
Students will take courses in engineering, math, and science while completing a comprehensive business curriculum. They will develop a broad and strategic perspective of business, acquire a solid command of the technical fundamentals of engineering, and link their technological skills with their business knowledge through the required senior capstone business development experiences courses.
"Michigan Tech has long been committed to delivering a distinctive and rigorous discovery- based learning experience grounded in science, technology, engineering and mathematics (STEM)," said Provost Max Seel. "Combine that with hands-on experience in business, and you have just what students will need to prosper in the new economy."
Published from Michigan Tech News.