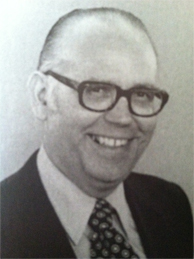 Craig Storm and Megan Plis are the 2011-12 recipients of the Sam B. Tidwell Outstanding Man and Woman in Business.  This award is given to students who bring honor and pride to the School of Business and Economics through high scholastic achievement and involvement.  Students eligible for this honor went through an intense interview process that included an essay and interview with faculty.
Anne Warrington of the Undergraduate Scholarship Committee added, "Megan and Craig are two of the most competent, talented, and totally amazing students in the School of Business and Economics. They have everything it takes for professional success after graduation.  It has been a pleasure meeting and working with them in classes and student organizations."
Outstanding Man in Business
Craig Storm is a senior in the School of Business and Economics who will graduate with his degree in Accounting this spring.  In his time on campus he has been affiliated with Kappa Sigma Iota Accounting Organization (KSI) and an International Business Ventures Enterprise team member while currently holding an internship with Lake Accounting.  Craig has a level of professionalism and maturity that he brings to the community and the classroom which made him a strong candidate and the recipient of this award.
When asked about receiving the award, Craig said, "I enjoy studying how companies function from an accounting and financial perspective. This was the biggest factor in choosing my major and where I want to go professionally. It is an honor to be selected for this award, and I look forward to representing the School of Business and Economics as I advance my career,"
Outstanding Woman in Business
Megan Plis is a senior, Business Management major and Spanish minor who will graduate this spring.  An extremely involved student, Megan makes time for a variety of extracurricular and leadership activities outside of the school environment.  She volunteers at her church leading the music at worship services and singing in the choir.  With three years of diverse sales and marketing experience at a Lolita's Bridal Boutique, the Wooden Nickel, and River Valley Bank she has been able to put her education into action.
About the Award
The Outstanding Man and Women in Business is awarded annually and the School of Business and Economics is confident that this year's selections represent the student body well with their efforts in leadership and extracurricular activities.  Undergraduate Scholarship Committee members Anne Warrington, Mari Buche, and William Breffle were heavily involved in the selection of this award.
"The Scholarship Committee has a challenging task to select these award recipients," said Darrell Radson, Dean of the School of business.  "We, as a school, thank them for their continued commitment to recognizing students who excel in and outside of the classroom."
When asked about the selection process, Buche noted "the selection process was very difficult this year.  All of the finalists were exceptional candidates: strong academic GPAs, demonstrated leadership skills, and clear commitment to the improvement of the school and Michigan Tech." Other finalists for this year's award included: Caitlin Pionke, Rhea-Ann Moses, Jordan Baker, Andrew Loucks, and Spencer Shandonay.