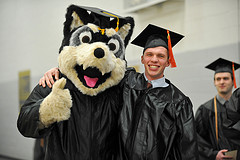 Is a college education a good investment?
No question about it, according to a report just issued by the website PayScale.com. In its 2012 Return on Investment (ROI) rankings, PayScale reports that a bachelor's degree from Michigan Tech can be expected to yield more than $450,000 over a high school diploma in 30 years.
Michigan Tech placed 102nd among 850 US colleges and universities ranked in PayScale's latest ROI report. According to the report, a Michigan Tech bachelor's degree provides a return on investment of 9.6 to 11.1 percent.
"You would have a difficult time getting 11 percent every year going forward in the stock market without taking on a lot of risk," said President Glenn Mroz. "And this is an investment people make in themselves that pays dividends beyond a simple ROI, since it affects a person's quality of life and that of their family, often for generations."
The ROI report also compared the cost of a degree at each of the colleges and universities ranked. It reports that a degree from Michigan Tech costs an average of $103,200, including tuition, fees, room and board, and books and supplies, with 91 percent of students receiving financial aid. At the top 10 schools on PayScale's ROI list–all private–a degree costs between $203,500 and $212,900.
"The top of the list is dominated by expensive private schools and public universities with a strong STEM focus, demonstrating the value of STEM degrees," Mroz pointed out.
Graduate School Dean Jackie Huntoon agreed. "I think this is a more rational ranking than the US News report, since it is based less on other academics' perceptions and more on student outcomes," she said.
(This article was written by Jennifer Donovan, Director of Public Relations, and was orignially posted in Tech Tody).