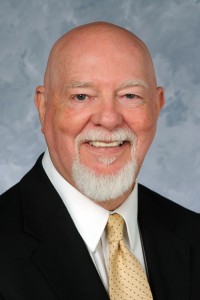 Gene Klippel has been named dean of Michigan Tech's School of Business and Economics. He will take over the position on July 1. Klippel replaces Darrell Radson, who left the University in May.
Klippel knows the campus and community, having served as dean of the School from 1994 to 2003. While at Michigan Tech, he led the School to accreditation by AACSB (Association to Advance Collegiate Schools of Business-International).
"He was consistently the top-ranked candidate in the pool, given his extensive experience at the dean level at a number of universities, his familiarity with AACSB accreditation, and his professionalism," said Sonia Goltz, professor and chair of the search committee. "We look forward to Dr. Klippel leading the School of Business and Economics as we further advance our programs and scholarship."
"Dr. Klippel's strong leadership and communication skills will be vital in achieving the School's mission," said Dean Johnson, James and Delores Trethewey Professor in the School. "We look forward to him building relationships with the Michigan Tech community and alumni."
Previously, Klippel was the founding dean of the College of Management at the University of Wisconsin, Stout and dean of the College of Business at the University of Southern Indiana.
Before joining Michigan Tech in 1994, he was a member of the faculty in the College of Business Administration at West Virginia University, where he was designated a distinguished professor and holder of the Kmart Chair in Marketing.
He also has held faculty appointments at the University of Florida, the University of South Florida and the Harvard Graduate School of Business.
Klippel has conducted extensive research and scholarship in the field of marketing. Further, he has served as a member of the editorial review board of the Journal of Marketing and the Journal of Marketing Management.
In addition to his academic background, Klippel's experience includes corporate marketing staff assignments with Ford Motor Company and Cummins Engine Company, as well as president of Market Research of Florida and vice president, consumer research, Management Horizons Inc., formerly a division of Pricewaterhouse/Coopers.
Klippel has also served as an independent consultant to numerous Fortune 500 companies, including Drexel Heritage Furniture, Westinghouse and Caterpillar and Caterpillar-Australia.
He received his PhD in Business Administration from Pennsylvania State University and bachelor's and master's degrees in marketing from the University of Cincinnati.