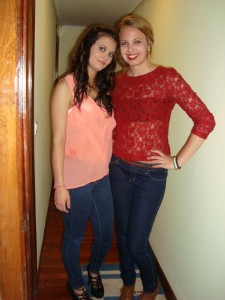 "I wanted to go abroad because I haven't completed an internship and I'm entering my senior year at Michigan Tech," said Operations and Systems Management major Kathryn Danielson. "I wanted something that would look good on my resume."
With an increasingly tough job market, students are encouraged to take advantage of every opportunity offered to gain an edge on the competition. As a business major understanding the global market can set you apart from other applicants when applying for jobs. Danielson did just that by taking courses in Bilbao, Spain during the summer of 2012.
"I took international management and did a field study in Madrid for a week. My class was even smaller than the classes I have had at Tech and they were very hands-on," she added. "Our professor took us to a lot of businesses in Spain to see how they managed their business and what daily functions they fulfilled. We also attended an entrepreneurship convention in Spain that provided insight on how people may start businesses in Spain."
Being from the Upper Peninsula, Kathryn admitted that the best part of her trip was meeting the people from a culture different from her own, shopping in the streets, and attending a rave.  See the youtube clip below from the night she saw popular DJ Steve Aoki perform (watch a video of the Bilboa performance!)!
Given the opportunity, she says she would absolutely study abroad again and might try to make one more trip back to Spain to visit friends who are still there, as well as the locals she befriended while studying.
Earn a Global Business Minor
The School of Business has added a new Global Business Minor for students who are interested in traveling the world and earning college credit! It is available to all Michigan Tech students and can be especially beneficial for students considering the Peace Corps or graduate school after graduation.  For more information, please visit Global Business Minor at Michigan Tech.