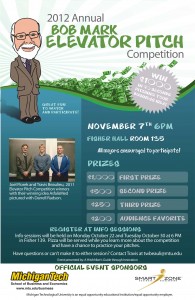 Where can you win $1,000 for just 90 seconds of your time? At the 2012 Bob Mark Elevator Pitch Competition! Join us on Wednesday, November 7 in Fisher 135 at 6pm for the fun!
In the competition, contestants have a limited time (like on an elevator ride) to sell a concept to someone who doesn't have previous knowledge about their business. A 90-second time limit is placed on the competitors, who will also be competing for second ($500), third ($250), and audience-favorite ($200) prizes. Please join students, faculty, staff, and community members for this year's event. You won't be disappointed!
This event is a tribute to the late Bob Mark, Professor of Practice within the School of Business and Economics. Mark started and ran the first four years of the Elevator Pitch Competition and brought the Business Plan Competition to Michigan Tech. The Bob Mark Elevator Pitch Competition and other efforts  support his entrepreneurial spirit that continues to live on in students, faculty, and staff.
Get Involved
If you are interested in participating in this event, review the EPC Information and Rules or download the 2012 Bob Mark Elevator Pitch Competition Judge's Score Sheet. To participate, attend an information session (the next one is scheduled for Tuesday, October 30th at 6pm in Fisher 139) and contact Travis: twbeauli@mtu.edu with any questions.
Advice from Bob Mark
Do not say "we have no competition."
If you are stating guessed numbers, try using 3, 7, or 9 to make the numbers sound more realistic.
Memorize your first and last statements, let everything in the middle flow naturally.
Be confident in everything you say and avoid terms such as "maybe."
There is an audience favorite prize so invite all of your friends to vote for you!
This event is sponsored by the Michigan Tech School of Business and Economics and the Michigan Tech Smart Zone.