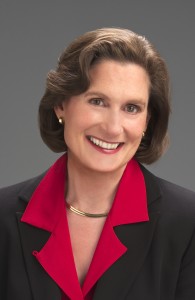 As part of the Visiting Women & Minority Lecturer/Scholar Series, Dr. Elizabeth Hoffman will be on campus December 3rd and 4th, 2012.
Please join the School of Business and Economics in welcoming Dr. Hoffman during her presentation to the campus community at 4pm on Tuesday, December 4th in the Memorial Union Building, Ballroom (A2). Her presentation is titled, "The Evolution of Experimental and Behavioral Economics." A short reception will follow in Ballroom A1. This is an excellent networking opportunity for students, faculty, and staff.
More about Dr. Hoffman
Elizabeth (Betsy) Hoffman is currently Professor of Economics at Iowa State, whereshe was Executive Vice President and Provost from 2007 to 2012. Previously, she was President of the University of Colorado System. She is a 1968 graduate of Smith College, holds doctoral degrees in economics and history, and has been an accomplished university administrator, faculty member, and researcher over a career spanning 40 years.
She served as provost and vice chancellor for academic affairs at the University of Illinois at Chicago (UIC), where she also held concurrent academic appointments as professor of economics, history, political science and psychology, as well as professor in the Institute of Government and Public Affairs.
She joined UIC after serving as dean of the College of Liberal Arts and Sciences at Iowa State University. Before moving to Iowa State in 1993, she held academic and administrative positions at the University of Florida, Northwestern University, Purdue University, the University of Wyoming and the University of Arizona.
She is currently on the Boards of Marsico Capital Management, Smith College, the Association of Universities for Research in Astronomy, and the Science Center of Iowa. Over her career, she has served on more than 20 boards, including the Board of Directors of Target Corporation, the National Science Board, and the Space Telescope Institute Council, which oversees the management of the Hubble Space Telescope.
In 1988, she was awarded the Coase Prize for Excellence in the Study of Law and Economics, together with her o-author, Matthew Spitzer. In 2010, she was awarded the Carolyn Shaw Bell Award, for her work in advancing the status of women in the economics profession, from the American Economic Association. In 2011, she was awarded an honorary doctorate from the National University of Life and Environmental Sciences of Ukraine, as well as the Margaret Sloss award for Gender Equity from Iowa State University. In 2012 she was named a Woman Impacting Iowa State by the Carrie Chapman Catt Center for Women and Politics.
She earned a doctorate in history from the University of Pennsylvania in 1972 and a second doctorate in economics from California Institute of Technology in 1979. She received a bachelor's degree in history from Smith College in 1968 and a master's degree in history from the University of Pennsylvania in 1969.
She is married to Brian R. Binger, who earned a bachelor's degree in economics from St. Olaf College and a Ph.D. in economics from California Institute of Technology, also in 1979. They live in Ames, Iowa and Golden, Colorado.
This event is funded by the Michigan Tech President's Office and a grant to the Office for Institutional Diversity for the State of Michigan's King-Chavez-Parks Initiative.
To learn more about Dr. Hoffman, visit her profile.
Video of Dr. Hoffman's presentation at Michigan Tech
Your viewers will need Real Player to watch the video stream. A free player can be downloaded at 
www.real.com
.