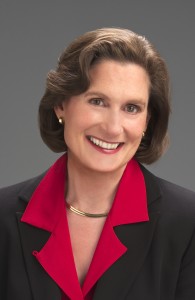 Elizabeth Hoffman, an expert in experimental and behavioral economics, will meet with several faculty and student groups at Michigan Tech, Monday and Tuesday, December 3 and 4.
Hoffman, currently professor of economics at Iowa State, will be giving four separate presentations over the two days. Her forty-plus years in academia have included stints as a university president and executive vice president and provost, and she will address different aspects of her research and experience.
At her University-wide keynote Tuesday at 4:00 p.m. in the Memorial Union Ballroom A2, she'll address "The Evolution of Experimental and Behavioral Economics." This event is open to the public.
"Starting in the 1950s, a small number of experimental economists challenged the economics orthodoxy of the day by studying markets in an experimental laboratory setting," Hoffman says. "This early work helped shape our understanding of how markets work."
Before the 1987 stock market crash, Hoffman says most economists believed that bubbles and crashes wouldn't happen because sophisticated traders would not allow prices to deviate from intrinsic value. The 1987 crash burst that thought bubble, and more recently, behavioral economists have shown that the beliefs of unsophisticated traders can actually drive up prices, well over their intrinsic values, witness the housing bubble that burst recently.
"With my coauthor Vernon Smith [2002 Nobel Prize winner], we also looked at two-person bargaining games that feature cooperation and competition. The results revealed, among other traits, that observation leads to more fairness, equity and equality," she says.
Hoffman will have lunch with female faculty members at 11:30 a.m. Tuesday and discuss the status of women in academia. Acknowledging that there remains underrepresentation of women in many fields, she will discuss the importance of family-friendly programs, especially as they pertain to the child-bearing years of female graduate students, postdocs and faculty.
"While provost at Iowa State, I was able to raise the numbers of female and minority senior administrators from 20 to 60 percent," she says. "And I was able to do so with the best people for the positions by eliminating unintended bias and ensuring that every employment pool was highly diverse."
With the Senate Finance Committee, she will discuss "Responsibility-centered Budgeting in Higher Education." At Iowa State, it featured decentralized budgeting with deans responsible for space and faculty benefits, including start-up costs, among other budget issues.
"Our results were dramatically positive," she says "Even though we started it in July 2008 in the midst of the recession and lost 25 percent of our state budget, we grew our incoming student numbers by almost one quarter." With the Senate Finance Committee at 2 p.m. Monday, she also plans to discuss faculty accountability, a subject she addressed recently in an article on the Inside Higher Ed website.
At 9:35 a.m. Tuesday, she'll visit a class, EC4640 Natural Resource Economics, and discuss "Property Rights and the Coase Theorem." Hoffman is an expert on the Coase Theorem, named after 1991 Nobel Prize in Economics winner Ronald Coase. It is an important basis for most modern economic analyses of government regulation.
Hoffman's visit is part of the Visiting Women and Minority Lecturer/Scholar Series. This event is funded by the Michigan Tech President's Office and a grant to the Office for Institutional Diversity for the State of Michigan's King-Chavez-Parks Initiative.
Written by Dennis Walikainen, senior editor, published in Tech Today.