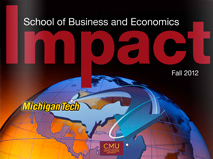 In this issue of Impact we explore the concept of networking and relationships leading to future opportunities for us around the world. The New Venture Competition, a partnership between Michigan Tech and Central Michigan University, is an excellent example of this effort (page 4) as is our work in project management (page 8), and other faculty-led competitions (pages 7 and 9).
From there, we focus on three alumni: Maggie Chen '04 finds career success and a balanced family in the demanding world of international finance (page 11), Greg Horvath '82 discovers what he refers to as "the biggest changes in information technology," and Andy Storm '99 combines engineering and business to help keep troops safe around the world (page 14).
Updates on campus include the new engineering management major and global business minor (page 16), a faculty-led market research project (page 18), and Dean Johnson's award as the 2012 Michigan Teacher of the Year (page 19). Next we have an update on the Sam B. Tidwell red tie campaign from recent CPA recipients and our accounting faculty (page 22).
To round out this issue, the Tech MBA Online class of 2012 completes their degrees with an international capstone trip to Bangalore, India's version of Silicon Valley (page 20). Two undergraduate students also provide their perspective on international travel by answering a few questions about their summer study abroad experiences in Germany and Spain (pages 26 and 27).
Please enjoy these updates from the School. We invite your thoughts and conversations at any time. Contact the School of Business and Economics.