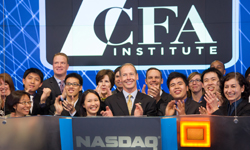 Students in the Applied Portfolio Management Program are expanding their resumes by competing in another investment competition and gaining valuable real world experience.
The CFA Institute Research Challenge was introduced to a global audience in 2006 and is considered, "the investment Olympics" for university students.  The event which hosted more than 3,000 students from over 650 universities, 89 businesses, and 106 societies in 55 countries and territories.  This challenge is an annual global competition which provides hands-on mentoring and intensive training in financial analysis and professional ethics.  Despite 2013 being the first year they competed in this challenge, our finance and economics students were able to advance to the global final of the event.
By compiling the highest combined report and presentation score and winning the regional competition, Michigan Tech qualified for global final.  "As a team we set aside many hours of our time to research, compile, analyze, prepare, rehearse, and finally present our findings to a panel of judges. The true amount of work this project entailed is staggering, however we are thankful for the opportunity afforded to us," said senior Finance major, Justin Wilson.   Joining Justin to represent Michigan Tech was fellow Finance major Jessica Zaiki as well as economics majors Eli Karttunen and Anna Paul.
Each student was tested on their analytic, valuation, report writing and presentation skills and gained real-world experience as they assumed the role of a research analyst.   Upon the team's return, Jessica Zaiki noted that having the exposure to the CFA institute, investment professionals, and the high caliber of competition at the Americas competition expanded her knowledge of stock analysis and furthered my interest in pursuing a CFA in the future.
The experience was valuable for our students and it is a competition we look forward to having continued participation and success at in the future.  Financial support for the student participation was provided via the James and Dolores Trethewey APMP Professorship.