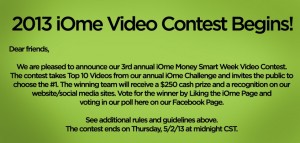 Michigan Tech's School of Business and Economics has made it to the top 10 videos in the iOMe Challenge. As a part of the 3rd annual iOme Money Smart Week Video Contest, our students have a chance to win $250.00 for first place.  Vote for the winner by Liking the "Ome Challenge" Page and vote in the pole found on the wall of their Facebook Page.
Our team needs your votes because the winner will be selected through voting on Facebook. Take a minute to vote and spread the word to your friends!  Click here to Vote the for the Michigan Tech Team!  Go Huskies!
Voting ends TOMORROW Thursday, May 2nd at Midnight CST.