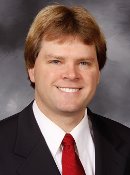 The Props for Profs program through the Jackson Center for Teaching and Learning asks students to nominate an instructor who has gone over and above the typical in their teaching or mentoring duties for students.
This week's Props for Profs winner is William Breffle, an associate professor of economics in the School of Business and Economics. The anonymous nominator started by explaining Breffle's excellence as a professor, but when the student faced the death of a close family member, Breffle not only accommodated missed work and gave condolences, but contacted the Dean of Students Office and provided information about counseling services available to the student. This student felt Breffle provided a great deal of help and guidance at a very difficult and uncertain time, going well above and beyond the role of a professor–and for that he deserves some mad props.
Both Breffle and his nominator will receive a $5 gift certificate to purchase a snack or drink at the Library Café or several other locations on campus. If you know a prof who has gone over and above, send some props today and maybe you'll be next week's winner.