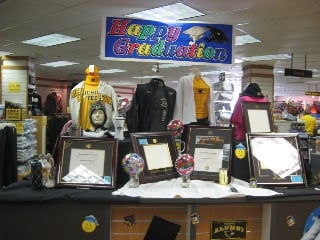 ---
You can order your regalia online or during Gradfest at The Campus Bookstore.  Just need a tassel or want an extra one?  You don't need to order anything!  Stop by the store during regular hours the week before the ceremony.
If you have any questions, contact the Campus Bookstore at (906) 487-2410.
For online orders you should receive a confirmation email within 2 business days.  If you do not, please contact Beckie at the Campus Bookstore to make sure she received your order capandgown@mtu.edu.
Once you receive your order, check out an instructional video for your:
---
Cap And Gown Pricing
---
For orders placed by midnight on March 2:
Undergraduate Package $31.00 (plus tax)
Masters/PhD Package Rental $55.00 (plus tax)
Orders placed after March 2:
Undergraduate Package $50.00 (plus tax)
Masters/PhD Package Rental $55.00 plus expedited shipping (plus tax)

Prices subject to change.
Undergraduates will have "green" gowns – not in color, but in spirit!  They will be black, as usual, but made of Repreve, 100% recycled yarn made from plastic water bottles.
---
Spring 2014 Gradfest
---
February 26, 2014     12:00 pm – 5:00 pm
Enjoy free popcorn and refreshments
Take 25% off Michigan Tech insignia items – diploma frames, clothing, and souvenirs
Undergraduates: order your cap and gown!
Grad students: order your rental regalia
Talk to representatives from Alumni Relations and the Career Center
Order your class ring and printed announcements

Can't make it to Gradfest?  Place your order now using the appropriate form above!
For more information about commencement, visit www.mtu.edu/commencement.