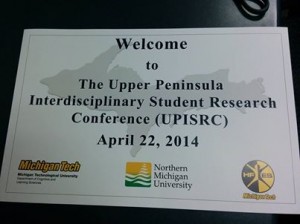 The 2014 Upper Peninsula Interdisciplinary Student Research Conference (UPISRC) was organized to showcase and publicize the research being done by local students in human and behavioral sciences. This event was developed to organize a conference involving student research in: psychology, human factors, education, human effectiveness, human-centered design, social science, kinesiology, and other related fields. This year 30 students submitted abstracts, and many of the authors presented on their research at the conference for the first time. Presenters came from several departments across both MTU and NMU.
Each student gave an oral presentation for fifteen minutes in addition to a poster presentation on their research topic. The School of Business and Economics had one student participate in the UPISRC. Haley Florinki is a senior Marketing major and she presented on Assessing the Effect of a Salesperson's Customer Service Duration Up-selling and Cross-Selling.
The abstract for her research is presented below:
The purpose of this research project is to empirically test how a salesperson's time spent with the customers impact on their purchasing decision. More specifically this project focuses on the duration of a salesperson's customer service and its effects on up-selling and cross-selling. Up-selling takes place when a salesperson attempts to sell a similar but better quality product than the first product exposed to a customer. Cross-selling happens when complimentary products adding to the main product that customer initially looks for creates extra customer value. Regarding the research method, this project used observation research to capture important independent variables (Time spent with customers, and product display method) and dependent variables (Whether or not the sale was made, and sales results – up selling & cross-selling). Responses from shoppers in a large local mall were recorded into the IBM-SPSS software. The questionnaire was designed for the associate to be able to interact with a customer and complete the questionnaire afterwards. The expected outcome was that the amount of time spent with a customer would increase the likelihood of up-selling and/or cross-selling. The results from the Chi-square test greatly supported the evidence that the time spent with the salesperson had a positive impact on sales. I specifically found that while a salesperson's short time spent with customer (less than 30 sec) increased the likelihood of up-selling, her long time spent with customers (more than 90 sec) promoted that of cross-selling.
This event was sponsored by the MTU Human Factors Student Chapter and the MTU Department of Psychology.