Where does a giant international retailer turn when it needs innovative IT support?  Michigan Technological University, of course.
Target Corporation, with international headquarters in Minneapolis, is the first retail firm to participate in Michigan Tech's signature Enterprise program. In the Enterprise program, teams of students work with a business or industry sponsor on a real-world problem that the sponsor would like the students to help solve.
ITOxygen is an Enterprise that specializes in information technology (IT) solutions. Their motto: We breathe new life into information technology projects.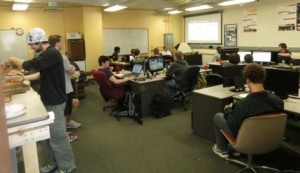 Target actually presented ITOxygen with several problems involving mobile app development and computer infrastructure. Over the school year, the students developed an app for the iPad that measures wi-fi connectivity throughout Target stories. Another app lets shoppers with Android smartphones build a shopping list and share it with others.
The shopping list app will be particularly useful for event planners, teachers and parents buying school supplies, or groups of students or others living together.  "With it, you can avoid buying 200 boxes of Kleenex and no crayons, Russ Louks, ITOxygen's advisor, explains.
The ITOxygen students also wrote scripts to automatically deploy servers nationwide. Then they were invited to present their work to a meeting of high-level corporate executives.
Target not only put money into the project, they really integrated the students into the corporate IT structure, says Rick Berkey, the Enterprise liaison between Michigan Tech and corporate sponsors.  "The students are working right along with Target IT professionals, learning the language of the industry," Berkey says. "That level of support and time commitment is unusual."
Target has enjoyed recruiting for technical talent at Michigan Tech, says E. B. Hakkinen, process consultant for Target Corporation's Technology Solutions. "Target was interested in continuing to build upon our strong relationship with Michigan Tech, she explains. "We wanted to deepen our partnership and technology brand on campus.   We saw a unique opportunity through the Enterprise Program, specifically ITOxygen, to brand Target as an employer of choice for technology students, while collaborating with Michigan Tech students and giving them a first-hand experience of what it could be like to work for Target."
"We learned a lot in our first year, 2012-2013, working with ITOxygen," she continues. "This past year we experienced success with all of our ITOxygen projects. We found the best approach is to allow the students to be innovative in their solutions while we provide the support and tools necessary for them to be successful.  We look forward to continuing our relationship and seeing innovative solutions from the ITOxygen students in the coming school year."
As Berkey puts it, without a hint of a grin, "the ITOxygen students have been right on target."
One of the students, David Shull, a computer engineering major, was especially impressed with Target's commitment to integrating technology into retail sales.  "It's really exciting how innovative they're being in mobile and web technologies," he says.
Shull feels that the Enterprise project teaches skills that are hard to learn in a traditional classroom setting. "The most important thing I gained was the experience working on a corporate project with people from all over the country," he says.
Projects like ITOxygen's work with Target prepare students for their future in the working world, which is just what Target—the first retailer to come to Michigan Tech's Career Fairs–wants. "Target is recruiting skilled IT employees," says Berkey. "It's more than a retail store."
Shull says students need the kind of experiences the Target Enterprise project offered. "It's too easy for students to think they know what 'real' work is like," he says. "I hear students complain about how a concept they've learned won't be of use in the real world. Opportunities like the Target Enterprise project give students hands-on experience that is guaranteed to be applicable in the real world, and demonstrates the value of concepts that were learned previously. They also facilitate self-learning, engineering management and other key skills.
"Plus—there is something really cool about walking into a Target store and knowing that you wrote an app the employees or shoppers are using."
This story was originally posted in Michigan Tech News and written by Jennifer Donovan. To see the original story please view this link.