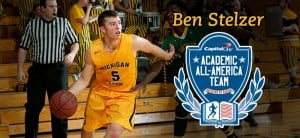 Michigan Tech men's basketball player Ben Stelzer (Manitowoc, Wis.) has become the program's fifth player to earn Academic All-America recognition. The senior guard was named to the Capital One Academic All-America Second Team today.
Stelzer, who was the preseason GLIAC Player of the Year, leads the GLIAC in scoring at 22.1 points per game. He has posted 552 points this season to run his career total to 1,689—seventh-most in program history. The 6-1 guard leads the nation in 3-point field goals per game (4.0) and broke the Huskies career record for 3-pointers made (now with 352). In the classroom, Stelzer has a 3.69 cumulative grade point average in finance.
He joins an exclusive group of men's basketball players who have earned Academic All-America status. Austin Armga (2014), Wayne Helmila (1985), J.T. Luginski (2002 and 2003) and Russ VanDuine (1980 and 1981) are the others.
Michigan Tech concludes its 2014-15 regular season today at arch rival Northern Michigan. The Huskies will then host a GLIAC Tournament quarterfinal game at the SDC Gym next Wednesday, Mar. 4.