Oct 03, 2015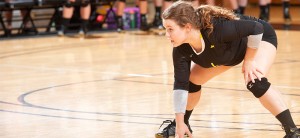 HILLSDALE, Mich. – Stephanie Dietrich had a game-high 13 kills and hit .522 and teammate Jacqueline Aird had 13 digs, but the Michigan Tech volleyball team was knocked off by Hillsdale, 3-0, in a GLIAC conference volleyball match today (Oct. 3) at Dawn Tibbetts Potter Arena.
Despite the loss, the main story of the match was Aird, who passed Kristin Klock to break the program's all-time record for career digs. A senior captain, Aird currently has 1,582 digs in her Tech career. She also holds the single-season record after tallying 491 digs last season.
Tech powered its way to an 18-13 lead in the opening set, but an impressive rally by Hillsdale ended with the Chargers taking the first frame, 25-23.
A close second set tilted in favor of Hillsdale midway through when the Chargers went on a run on their way to a 25-19 victory, and a balanced attack in the third set gave the Huskies another edge on the scoreboard before Hillsdale bounced back to edge out Tech, 26-24.
Aubrey Ficek notched 11 kills in the match. Rachel Pohlod paced the Huskies both offensively and defensively, leading Tech in assists (32) and digs (14) in the contest.
Michigan Tech (12-4 overall; 4-3 GLIAC) is back in Houghton next weekend (Oct. 9-10) for two GLIAC matches. The Huskies take on Walsh Friday at 5 p.m. before closing the weekend against Malone on Saturday at 4 p.m.