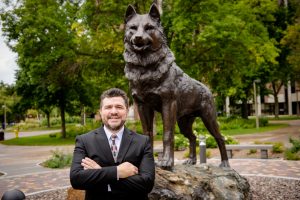 Dean L. Johnson, currently the James and Dolores Trethewey APMP professor and founding director of the Applied Portfolio Management Program, has been named Dean of the School of Business and Economics. The announcement was made by Jackie Huntoon provost and vice president of academic affairs.
Johnson has been serving as interim dean since January of this year. Huntoon said "I thank the search committee for their efforts in assembling an outstanding slate of candidates for on-campus interviews. Despite the quality of the other candidates, Dr. Johnson rose to the top and I look forward to working with him in the future."
Johnson earned his PhD in finance from the University of Wisconsin – Madison. He joined Michigan Tech in 1996, with an initial appointment at the rank of instructor. He was promoted to the rank of full professor in 2012 and served as assistant dean from 2014-2016. Johnson has also held a visiting faculty position at the University of Wisconsin for the past twenty years.
Huntoon says Johnson has a reputation for creating unique academic programs, offering engaging learning opportunities for students, partnering with key stakeholders and working with accreditors.
His research focuses on fictional asset pricing and has been recognized through awards for best paper. His teaching has earned him recognition as the 2012 Michigan Professor of the Year by the Presidents Council, State Universities of Michigan (now the Michigan Association of State Universities).
On his appointment, Johnson said, "It's an exciting time to accept this position. Technology has become the driver of the global economy. Michigan Tech is an exceptional STEM university that provides the School with a unique ability to bridge business and technology. I am looking forward to working with the stakeholders of the University and the School of Business and Economics to fulfill this unique role."
Faculty, academic staff, students and an alumnus comprised the search committee that made recommendations to the provost regarding selection of the new dean. Johnson succeeds Gene Klippel, who retired this year. Johnson will begin his duties immediately.
by Office of the Provost and Vice President for Academic Affairs, Tech Today