Congratulations to SBE students Brent Baltus (MBA), Joel L'Esperance (MIS) and Mitch Reinke (Management) on being selected to lead Husky Hockey.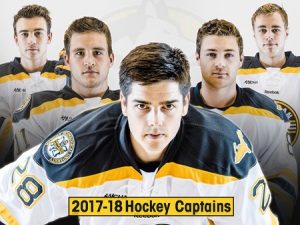 HOUGHTON, Mich. – Michigan Tech head hockey coach Joe Shawhan has named Brent Baltus the captain of the 2017-18 Huskies. Joel L'Esperance, Dylan Steman, Jake Lucchini, and Mitch Reinke will serve as alternate captains.
"These young men understand the expectations on the ice, in the community, and in the classroom placed upon them by our staff," First-year head coach Joe Shawhan said. "Brent was a part of the class that reestablished the Michigan Tech hockey tradition. He leads with quiet confidence and has the total support of the locker room.
"The alternates are all individuals who show up to the rink everyday with a positive attitude. They support their teammates and lead by example on and off the ice."
Baltus, a senior forward from Nanaimo, British Columbia, was an alternate captain last year. He played in 14 games, scoring two goals and adding two assists before a season-ending injury. He enters his final year two games shy of 100 for his career and has 43 career points on 18 goals and 25 assists. Baltus is a three-time WCHA All-Academic Team member and two-time WCHA Scholar Athlete.
L'Esperance leads the team in career games played (108) and points (34g-37A=71). He led last year's squad with 28 points on 11 goals and 17 assists, receiving the Gary Crosby Memorial Award as the team's top scorer. The senior forward from Brighton, Michigan attended the Anaheim Ducks Development Camp in June 2016 and has 14 multi point games in his career.
Steman has played in 74 games over his first three seasons, tallying 38 points on 16 goals and 22 assists. He is a two-time WCHA All-Academic Team selection and was a WCHA Scholar Athlete last year. The senior forward is a two-time recipient of the John MacInnes Slide Rule Award after having the best GPA on the team with his 4.0 in mechanical engineering. The native of Hanover, Minnesota was named the top freshman student-athlete at Tech after his freshman year, receiving the Terry Wilson Award.
Lucchini has 39 points in 82 career games, tallying 22 points on 11 goals and 11 assists last year. The sophomore forward has never missed a game in his Tech career and was ranked ninth in the country in game-winning goals (5) in 2016-17. The native of Trail, British Columbia was named to the WCHA All-Rookie Team after his freshman year and has twice attended the Edmonton Oilers Development Camp.
Reinke was a WCHA All-Rookie Team selection after his freshman season last year. He appeared in 41 games and was fifth in the WCHA in power play points (14) and seventh in WCHA freshmen scoring (6g-14a=20). The defenseman from Stillwater, Minnesota attended the Nashville Predators Development Camp in June 2016 and the Calgary Flames Development Camp in July 2017.