The School of Business and Economics is pleased to announce that Ron & Linda Staley have established a new engineering management scholarship for incoming students. This endowed scholarship will recognize an outstanding first-year student in the engineering management major.
2017 has been a big year for Ron's involvement with the School of Business and Economics. He was inducted into the Academy of Business which recognizes outstanding leaders in business and civic affairs, as well as those who have contributed significantly to the growth and development of the School of Business and Economics. He also joined our new Engineering and Supply Chain Management Industry Advisory Board.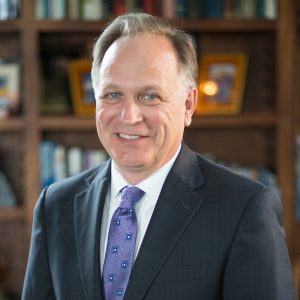 Staley has been with The Christman Company for 33 years and is currently leading the reestablishment of a new construction management and general contracting office in the City of Detroit.   He founded Christman's Historic Preservation Group in 1992 providing construction services for high profile national historic landmarks across the US and foreign countries.  Ron earned his Bachelor of Science in Business Administration (Industrial Management) and Associate of Applied Science in Civil Engineering Technology from Michigan Technological University.  He is on the Board of Directors of The Christman Company and multiple non-profit boards and honored as a Fellow in the Association for Preservation Technology International and Honorary Affiliate of the Michigan Chapter American Institute of Architects.
Ron and Linda live in Brighton, Michigan and have two married children and two grandchildren.
"We are so fortunate to have alumni who are dedicated to giving back to the School of Business and Economics both financially and with gifts of time and expertise." – Dr. Dean Johnson, Dean of the School of Business and Economics