By Jennifer Donovan
Original Link
Five Michigan Tech students competed in the Lear Open Innovation Challenge 2018, and four brought home awards.
Michigan Technological University students Shawn Badanjek, Mayank Bagaria, Anurag Kamal, Cameron Philo and Arvind Ravindran completed this year's challenge, and Badanjek [student in the School of Business and Economics] was a member of the team that won the grand prize.
Lear Corporation, based in Detroit, is a leading automotive supplier that hosts the annual challenge to build connections with the state's universities and tap new sources of innovative ideas.
"Detroit is the birthplace of the automobile, and, leveraging this proud legacy and manufacturing expertise, its industries are poised to be ground zero for the development of tomorrow's mobility solutions," the Lear Open Innovation Challenge website explains.
The challenge is conducted by the Innovatrium, a consulting firm founded to help organizations build the internal capacity to innovate and grow.
This year's Lear Challenge had 57 participants from six universities: Michigan Tech, Michigan State University, Wayne State University, the University of Michigan-Ann Arbor, the University of Michigan-Dearborn and the University of Detroit-Mercy.
The Lear Open Innovation Challenge presents a problem to interdisciplinary teams of university students. This year, the challenge involved increasing vehicle occupant safety. Two weeks later, the teams meet in Detroit to present their solutions.
The competition is designed to teach an innovative mindset, prepare students to create ideas for the future of mobility and vehicle connectivity, work with innovation coaches and Lear technology development experts and learn how to develop solutions that advance technology and manufacturing. While in Detroit, the student teams get a tour of Lear's headquarters and a chance to network with top companies in the Detroit area and faculty from Michigan Tech, Michigan State, Wayne State, the University of Michigan-Ann Arbor and University of Michigan-Dearborn.
Grand Prize Winner
Five Michigan Tech students completed the challenge and four received awards. One, Shawn Badanjek, was a member of the team that won the Grand Prize. A senior in engineering management [and management information systems], he will receive an internship with Lear for the summer, where he will work with his team to develop a prototype of their idea. He will also receive $250 cash prize, a Haworth Fern chair (customized personally for him) and a set of Detroit Tigers tickets.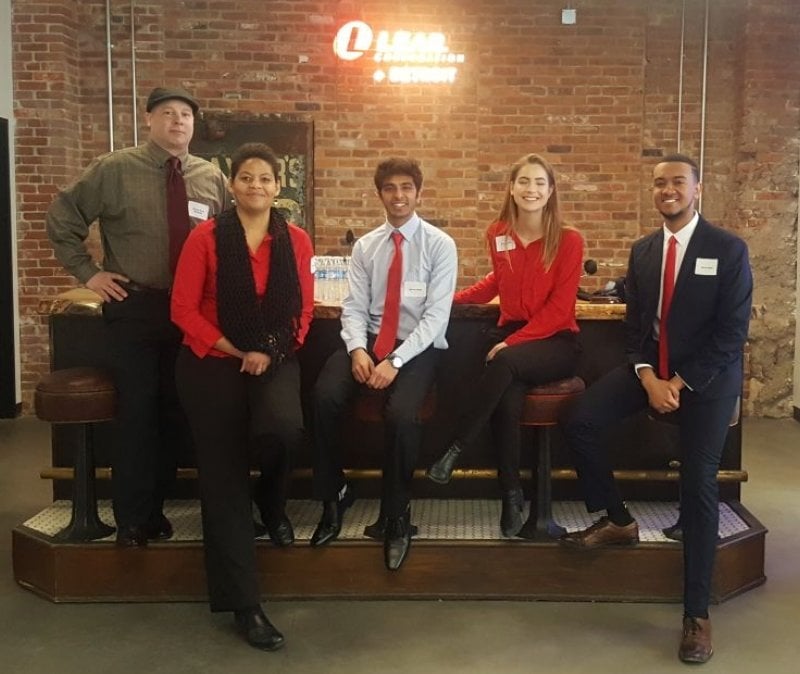 Badanjek has high praise for the competition mentors. "I believe the guidance and mentoring I received from these people was priceless," he says. "I learned more about high-level team building and interaction in two weeks than in any semester-long class I have ever taken. This is something you learn that will be with you and help you navigate team interactions for life."
Two other students, Cameron Philo—a Pavlis Honors College student—and Mayank Bagaria, were on a team that won an award for the most innovative idea. They will each receive a $250 cash prize.
"We approached the problem from a very different perspective, not as a conventional mechanical engineer would design, but as a biomedical engineer would design," says Bagaria, a graduate student in mechanical engineering. "Working on the team was an awesome experience; diverse universities with people from different majors provided a very different perspective to the solution. The whole experience made me realize my strength and areas I need to work on. Michigan Tech helped us throughout the process. It would not have been possible to go and compete in Detroit without Michigan Tech."
Michigan Technological University is a public research university, home to more than 7,000 students from 60 countries around the world. Founded in 1885, the University offers more than 120 undergraduate and graduate degree programs in science and technology, engineering, forestry, business and economics, health professions, humanities, mathematics, and social sciences. Our beautiful campus in Michigan's Upper Peninsula overlooks the Keweenaw Waterway and is just a few miles from Lake Superior.