Josephine Amponsem, a master's student in Applied Natural Resource Economics in the School of Business and Economics at Michigan Tech, is working alongside Emanuel Oliveira, assistant professor of economics, building a socioeconomic database with more than one million observations on factors impacting entrepreneurship. In addition to collating and cleaning data, Amponsem is using Stata, an econometric software for analyzing huge amounts of economic data.
Amponsem is also gaining hands-on experience working with Latika Gupta, assistant professor of economics, collecting and mapping data on energy efficiency in the steel industry. "We ask ourselves what is the data telling us, and how can it be used to make economic decisions," Amponsem says.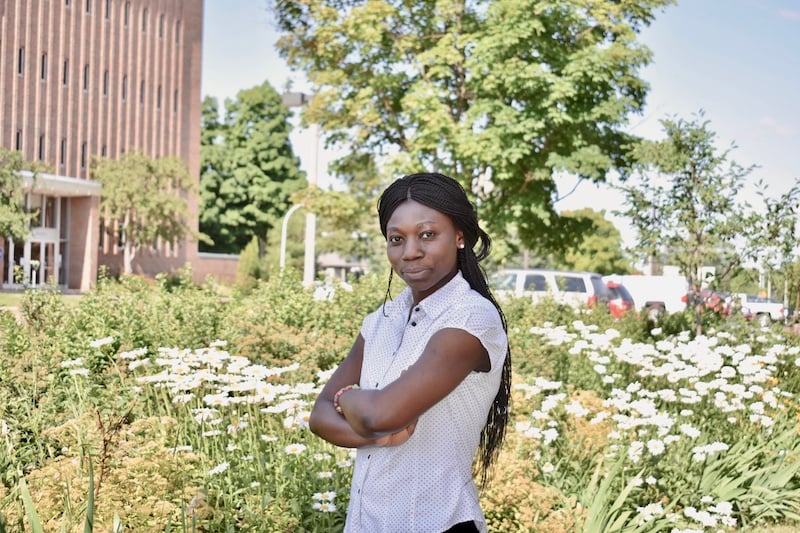 Originally from Ghana, West Africa, where she earned her undergraduate degree in materials engineering, Amponsem has professional experience working as a metallurgist in the mining industry. Her passion for natural resource management is rooted in her home country's illegal gold mining crisis and management of recently discovered oil beneath the sea.
In the traditionally male-dominated field, Josephine was the only female on her 11-member team. Every day she set out to validate her work through determination and focus. Despite the challenges, she loved the environment and had an eye toward managerial positions.
The obstacles she faced at the mine grew more dire with the news that it would soon shut down. "I thought, 'What am I going to do next? What are my opportunities?'" Her former manager suggested she pursue a US education to differentiate herself.
With her strong interest in natural resources economics, she Googled "mineral economics" and investigated more about the first school to populate: Michigan Tech.
"I discovered Michigan Tech has one of the strongest and best-funded programs in the world. In my master's program in the School of Business and Economics, I am learning how companies are run. I am learning decision-making tools, the economics of managing natural resources, and environmental issues that are being looked at worldwide. The key issues impacting almost every industry."
Amponsem is on track to complete her thesis looking at the socio-economic effects of illegal mining in rural Ghana in spring 2018. Her ultimate desire is to make an impact. She may pursue a corporate managerial job back home and isn't ruling out a PhD.