Last year during Career Fair, Tim Spehar '17 was an engineering management student. This year, he's back on campus—as an alumnus and recruiter for Therma-Tron-X, Inc. (TTX), a custom industrial finishing systems manufacturer with locations in Sturgeon Bay, Wisconsin, and Chicago, Illinois.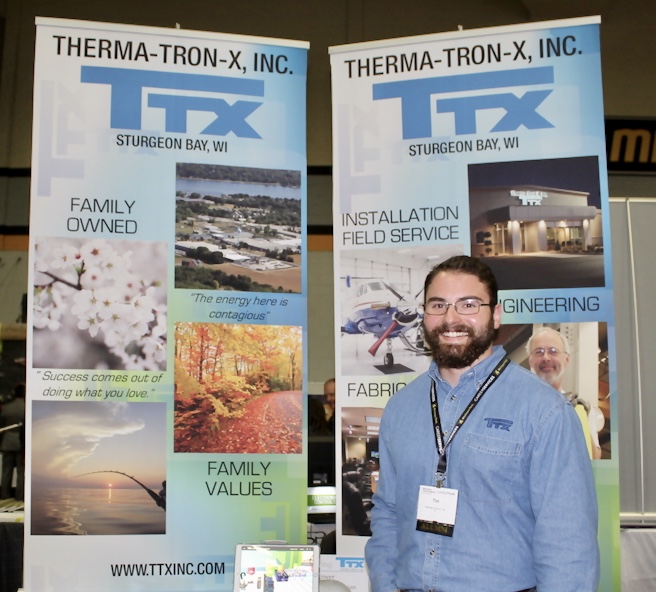 Tim serves as a project engineer, managing the design, fabrication, installation, and startup of equipment. "Our organization is flat, so I report to the VP of Engineering, the VP of Special Projects, and our CEO." At any given time, TTX project engineers like Tim are in charge of 10 mechanical designers during the engineering phase, up to 20 fabricators who assemble subsystems, and 10 on-site installers who erect the system for customers.
Husky Work Ethic on the Job
Once the machine is assembled, Tim's team travels to the client facility, working multiple rotations as field engineers to start-up and test the equipment, training the customer through the entire process before handing the keys over.
"A rotation is a two-week stint where we work from 6 a.m. to 6 p.m., or until we decide to leave," Tim says. "Some nights have been midnight or later to troubleshoot and stay on schedule. We fly in on a Monday (with our own planes—super sweet perk!) and work through the weekend until the following Friday."
The rigor doesn't phase Tim.
 "The rotations are my favorite," he says. "While we work very tough hours, it is the most rewarding part of the project process. We get to see what was once on paper, become a physical machine. It's our baby—it's really cool to see it through beginning to end."
Back in the office, Tim works with every facet of the organization to see that the project progresses on time, working with the lead designer to manage the drawing release schedule; working with the shop manager to discuss workflow; and working with accounting, shipping, and purchasing, coordinating equipment deliveries to customers. "And through all of this, we interface directly with the customer, helping them get ready for their new paint line, working with chemical coaters to discuss system capabilities and limitations."
For Tim, getting the job done well is the number one goal—but it hasn't come easy.
Michigan Tech's Business Degree Prepared Me
In fact, he admits it was challenging to size the equipment for his first machine project. "But now after three machines it feels like old hat," Tim says. Having an engineering background and project management experience through Michigan Tech's engineering management degree has paid off. "Working on a few special projects and standardization projects in-house, I have become one of our go-to foundry systems installers and hydraulics applications engineers."
"Having opportunities to work with and teach others is so rewarding. Some days feel like day 0, where I'm learning or teaching myself something new to solve problems quickly and creatively, but other days I find myself being pulled in to assist others on the team because I can problem solve so effectively. I really enjoy what I do. It has become a rewarding passion."