The first annual Husky Innovate Idea Pitch Competition took place Wednesday, Oct. 17 in Fisher Hall. The competition was hosted by the Innovation Center for Entrepreneurship, a collaboration between the Pavlis Honors College, the School of Business and Economics, and the Vice President for Research Office.
More than 30 students from various majors and disciplines pitched to a panel of judges comprised of faculty, alumni, and community members. Participants had two minutes to pitch their innovative and disruptive ideas. Alumni from Michigan Tech's 14 Floors joined the judging panel to offer feedback and expert advice to budding Michigan Tech entrepreneurs.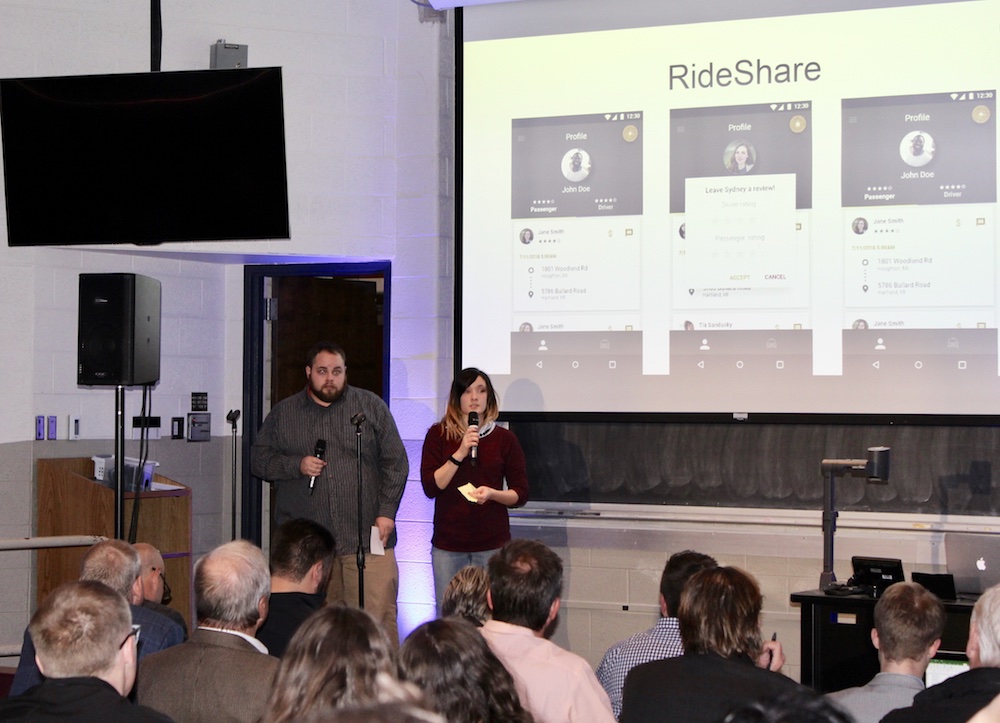 The winners of the 2018 Idea Pitch Competition are:
First Place and Audience Choice—Cameron Philo, Electrical Engineering, Pavlis Honors College, Life Pro Jackets
Second Place—Gary Tropp, Computer Network and System Administration, A Better Way to Schedule Classes
 Third Place—Mayank Bagaria, Mechanical Engineering, Wearable Translator
Honorable Mention—Sarah Smyth, Business, Post-op Bra for Breast Cancer Survivors
Honorable Mention—Christopher Codere and Joshua Hansen, MBA and Software Engineering, Firearm Detection Technology for Police Officers
Honorable Mention—Marina Brusso and Maxx Fredrickson, Marketing/Management and Management, Parking Improvement App
The Idea Pitch Competition is part of Husky Innovate, a series of workshops and competitions that guide students through key phases of business development while emphasizing strategies for success. More information on upcoming Husky Innovate events can be found at mtu.edu/husky-innovate.