By Jennifer Carolan, accounting student
As part of Beta Gamma Sigma (BGS), the honor society that represents the top five percent of the top 10 percent of AACSB-accredited business schools, I recently attended the 2019 Global Leadership Summit in Chicago. The event had many networking opportunities and included recruiters from Geico and KPMG (a top accounting organization), as well as amazing speakers and 400 other students from all around the globe. Throughout the conference, I made many connections to concepts I am familiar with thanks to my business classes at Michigan Technological University.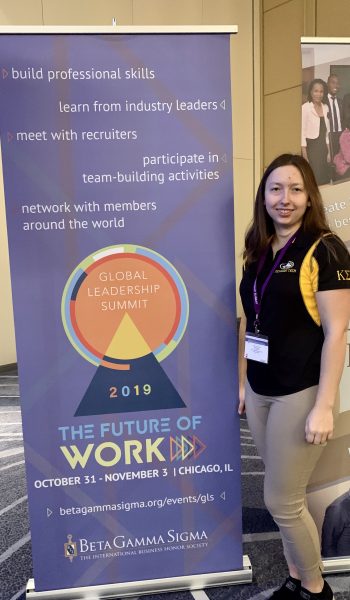 The Future of Work panel highlighted how with artificial intelligence (AI), it is important to have specialized skills and to rapidly adapt to technology. This is the perfect takeaway for me as a Michigan Tech student because Tech is giving me the tools to work with technology and to specialize with a data analytics concentration. 
During the trip, I became familiar with the Clifton Strengths test from one of the speakers. The Clifton Strengths test helps identify four key categories of strengths to better understand how people perform. The test provides self-awareness and helps understand how people with different skill sets work together, which is one of the skills that won't lose value in the future and is something we spend a lot of time on in our Team Dynamics business class. 
Another reference to my classes was ethics. Ethics is a part of many of my courses at Michigan Tech and for good reason; I learned that 83 percent of people experience an ethical dilemma in the first two years of employment, and everyone does at some point in their career. One of the speakers taught the RAISE (Recognize, Analyze, Identify, Select, Execute) model to combat unethical situations. It is important to follow through to the end when combating unethical situations, even if it isn't easy. I plan to take this advice to properly handle unethical situations in my future career. It feels good knowing I have a plan for difficult situations I might encounter.

One of Michigan Tech's core values–tenacity–was emphasized by a speaker. They defined it as a mathematical equation: skill plus achievement plus effort. Michigan Tech students certainly have tenacity and it is an asset that won't go away anytime soon. The speaker also mentioned the importance of self-awareness and communication, because the future of work will require soft skills no matter how technologically advanced the world becomes. 
Lastly, a recurring theme throughout the whole event was life-long learning. Dean Johnson, dean of the School of Business and Economics, also believes it's the right mindset to have in business. It was noted that being a life-long learner is not just about continuing your education, but that it could also be specializing with certificates, learning new technologies, and simply being willing to adapt to our changing world.
Careers of tomorrow won't look like they do today, and preparing myself for the changing world is an important step.